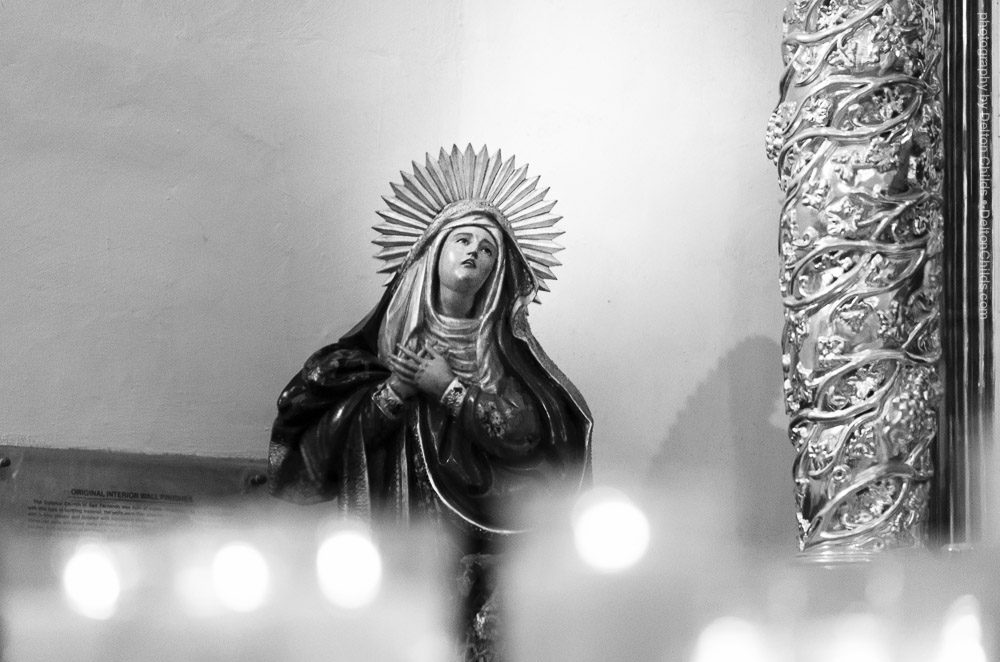 What can I say? It's San Fernando.  I've photographed it many times, and I'm sure every photographer in San Antonio has.  I feel it's a right of passage for every photographer to take images of all the "historic" spots in SA.  Downtown is one of those, and in the center of downtown, you'll find San Fernando.
But here's a little tidbit about San Fernando you might not know, they have a Yelp page!    I'm not sure if it's managed by anyone, but… it's there! They've got 5 stars and 27 reviews. I'm not sure what might cause someone to leave a bad review for a church, but the word on the street is they're giving away something called salvation, which promises deliverance from sin and its consequences.  I know, I know!  Sounds crazy, right?  Don't believe me, call them and ask about it.
I decided to go with high contrast images black and white for my treatment of San Fernando this time around.  The 24 karat gold retablo gives the whole church a very warm color temperature and I wanted the imagery, shadows and highlights to dominate more than the rich colors of the scene.
It's so funny photographing in sacred places (which I love to do) because you always get the impression that it's in some way sacrilege to photograph disturb or otherwise commercialize these places.  Is the photographer is violating some sacred unspoken rule of non-commercial reproduction of sacred objects and places?