Delton Childs Media Services is proud to offer Support and service for the Law Office of LaHood and Del Cueto PLLC.  The Law Office Of LaHood and Del Cueto came to us in need to basic design services and we've fostered a long term relationship with the law firm and are happy to include Nico, Andrew, Trey and Joseph in our roster of friends and clients.  Here are a few of the projects we've worked on the guys at LaHood and Del Cueto with: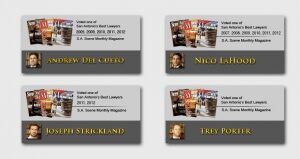 Attorney Profile Pages
Based on a little market research we new that effective attorney profile pages were a good way for people to get a feel for the personalities behind the firm and give prospective clients a quick meet and greet with each memeber.  We developed attorney profile pages for each key member of the team.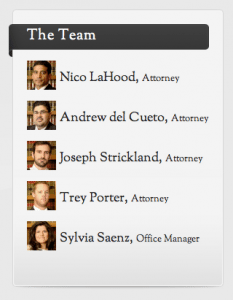 Attorney Profile Sidebar Navigation
Effective navigation is a key compoent to getting people around your website and showing off the content we spend so much time and effort in building.  Prior to taking over the site "The Team" sidebar module was simply as list of names.  We decided to take this navigational piece to the next level by adding a clickable attorney thumbnail and title description.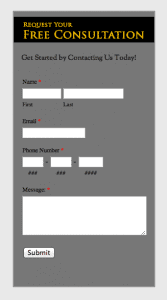 Homepage Contact Form Integration
LaHood and Del Cueto wanted to be sure people could easily contact them thought the homepage of the website, a common request of businesses.  We integrated a WuFoo form on their homepage and inside page right hand column of the site so potential clients would have quick access to a contact form from whatever section of the website they were currently navigating.
Attorney Profile Pages
All the little bells and whistles have to culmiate into something good.  The custom attorney profile pages we designed for LaHood and Del Cueto help organize and present some of the key competitive advantages they have.