Just got a new Canon XF-100 Professional Camcorder and I'm in the process of putting it through it's paces.  I was attracted to this model because of the 4:2:2 color sampling ratio and XLR audio inputs so we could really do some high quality work with this model pulling clean audio sources and applying color correction in post production   I've found that footage from ordinary camera that don't shoot at high data rates with good color sampling get torn to pieces in post, especially when trying to push and pull certain tones inside of the footage.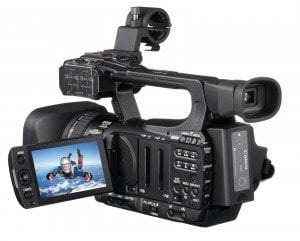 The first thing I did was experiment with it in low light.  I primarily did this because we were told it didn't perform well in low light.  I rarely shoot in low light, in fact, most of the time it's in a controlled studio environment where I'll use this camera so I wasn't too concerned.  Pretty much straight out of the box in full auto and extremely low light, it preformed as expected, cruddy grainy footage.   My buddy said it was pretty good though!  I'm very critical… but that's low light.
I've only had the opportunity to do a few things with the XF-100, using the local mic for fun, but I've been happy with it and the footage holds up well under heavy corrections and filters.
IMPORTING FOOTAGE INTO FCPX
One of the real reasons I deceided to write about this model was the trouble I had getting it go agree with my editor, Final Cut Pro X aka the infamous FCPX… I have to say, I haven't been entirely happly with the X software revision but I'm still using it and here we go.
So the camera wasn't showing up in my FCPX import window… you've got do download a Canon Plugin From this site and it's not very intuitive once you get to the install.  Here is a link to the cannon website where I got the FCPX plugin.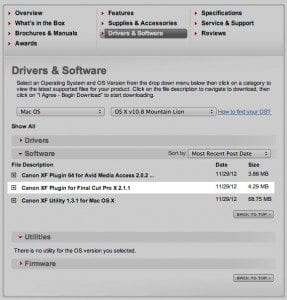 This is a screen shot of the dialoge I went through do download the Cannon FCPX plugin but once you've got the package downloaded the process wasn't all that intuitive   I recommending shutting down FCPX and watching this quick screencast of how installed the FCPX Plug-in for importing the footage and BLAM!  it's work like all your other camera with the little footage thumbnails and everything.
Hope that helps!