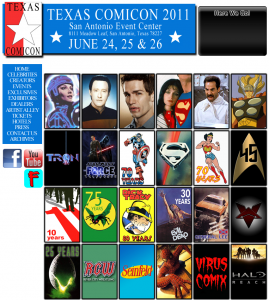 Let me start first by saying I was very disappointed in the event promotion, specifically the website(…just wait, things get better).  I'm a web developer… and a comic book fan so I have to say something.  It's hard to beleive that a comic book convention would have a hard time getting together a good website.  Aren't web coders and comic book fans the same group of people?  I'm one of them!  I couldn't really find much on the web about comic con other than a website filled poorly formatted pages and very little info.    As a web developer… I say it was a disaster.  But like I said, things get better.
I didn't bother getting a media pass, I didn't plan on going.  But the day came and the nerd in me couldn't pass up the chance.  I piled the kids in the car and headed to the SA Events Center not knowing how much it was going to cost or how cool it was going to be (thinking not very cool based on the website).  I even saw they were giving away free booths to presenters, which sent up red flags in my mind.
Texas Comic Con – San Antonio Admission is $15 and half price for kids.  I couldn't find this info anywhere on the web and it almost deterred me from going, I'm glad I went.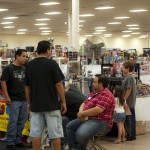 Comic Con was good. As soon as I walked in folks were smiling.  I should have known I'd have a blast.   I have to take this opportunity to say that I believe the people who love Sci-Fi and comic books tend to be good company.  I was greeted by event managment.  I have to thank the event organizer Kris for helping me out with my media credentials.  Eveyone was friendly as can be and I saw some amazing things.  When you first walk in you'll see rows of vintage and hard to find collectables from current and decades past.  I can imagine some very happy men walked away with some brand new toys this weekend… some of them vintage and still in the box.
There were statues of characters so finely crafted I couldn't believe my eyes.  Storm Troopers and Jedi Abounded.  Imagine my surprise when I spot San Antonio Film Maker and Jack Riccardi Show Producer Taylor James Johnson participating in all the festivities.  Out shooting of coarse.
There was a full size R2 roming around and for the life of me I couldn't find the person controlling it, either this thing was a big rumba that wasn't doing it's job or there was some guy hiding who knows were having the time of this life watching everyone freak out when they turn around and there is a full size R2 bleep blopping at them!
The comic book culture is alive and kicking in San Antonio… apparently.  No matter how poorly promoted on the web.  The comic culture came out gather, be with one another and celebrate our favorite characters and stories.  Good Times!