I was about to go crazy. I could not figure out why a sequence I had created on my iMac at the office only a few hours ago was not pulling up in my on my MacPro tower running FCPX at home. I checked software update and even clicked the "Download Aditional Software" dialoge inside Final Cut Pro X, which obviously does the same thing as running software update. In this case, nothing. My sequences, or now "projects" were still not showing up and I was also getting this error message each time I tried to open FCPX.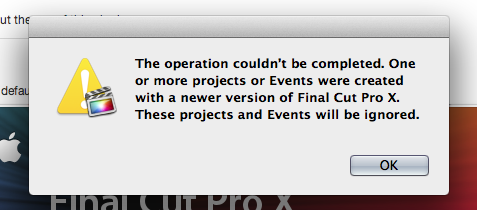 It turns out Apple has done a poor job of preventing fragmentation of their update systems in this instance because I was about to loose my mind. I think I event thought about firing up Premier Pro and starting over.
The solution was simple but not obvious. if you see this dialoge:
"The Operation couldn't be completed. One or more projects or Events were created with a newer version of Final Cut Pro X. These projects and Events will be ignored."
run updates through the app store icon.